Description
The Lucid Talisman now has its own website — check out the new edition here.
Composed of copper with a nickel finish, the Lucid Talisman™ represents a return to the old ways of lucid dream training.
It's a modern restoration of an ancient cognitive tool, a talisman for encouraging lucidity in waking life… and in your dreams.
Or, in the parlance of our times, the Lucid Talisman™ is a reality check that fits in your pocket.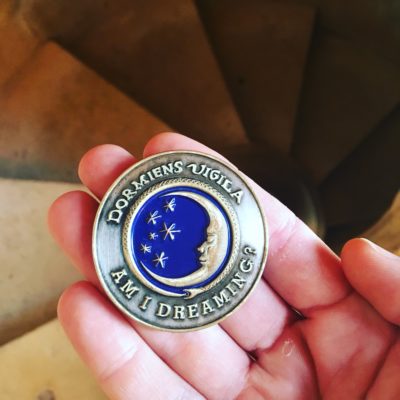 Let's say you're waiting for the train and, without thinking, you put your hands in your pockets. Your fingers brush up against the talisman and you instantly come back to your senses. You pull the talisman out of your pocket and admire its comforting weight and the way the light plays with the design, inspired by woodcarvings from the medieval alchemists.
"Are you awake?" the talisman reads.
You turn it over. "Are you dreaming?"
You think about it. Surely not. But how do I know? You flip the coin one more time and the words and icons on the first side are stable. No warbling.
Okay, it's verified. You are definitely awake.
Now you can use the reminder to become more aware of your environment, of your breath, of the fact that you are still waiting for the train. But now, a little more lucidly.
Maybe the Lucid Talisman™ will show up in your dreams tonight and remind you again.
And this time, you'll be ready.
Lucid Talisman Specifications
The Lucid Talisman™ was specially designed by lucid dream researcher Ryan Hurd and Lee Adams, founder of Embleholics coins.
At 2 oz. or 57 grams, the Lucid Talisman™ has a comforting heft. It's 5cm in diameter (bigger than the American silver dollar) and 4.5mm thick (thicker than the British pound).
The Lucid Talisman™ comes in a distinctive blue velveteen bag and with an instruction booklet, as well as a free 7 day email course on building a successful lucid dreaming practice with the help of the Lucid Talisman.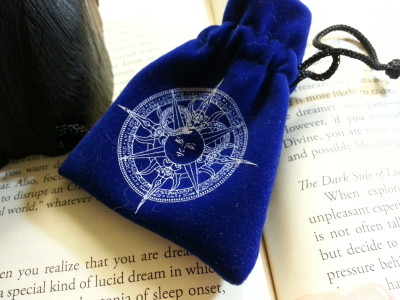 Note: weight listed in "additional information" includes mailing envelope and materials (for postage calculations).